Founded in 2014 by sisters May and Vivian Wang, Linens N Love is an award-winning 501(c)3 nonprofit organization that collects pillows, bed sheets, towels, blankets, and more from franchise hotels. These linens would otherwise have been discarded into landfills due to slight imperfections that do not meet franchise standards. 
Linens N Love trains and empowers student leaders to collect these castoff linens and deliver them to local homeless families, animal rescues, women's homes, and children's shelters. We emphasize service-based leadership to create meaningful educational opportunities by training student leaders to coordinate their own deliveries. To ensure each volunteer experience is unique and memorable, we go on tours of the shelter after we unload donations, followed by a reflective session in the form of an article or question-and-answer session with volunteers or shelter patrons.
Our vision for sustainability also includes an upcycling wing that gives linens a second life as tote bags, coasters, and stuffed animals. These are handmade by our partner charities who employ underprivileged populations of single moms and senior citizens in need of an alternative income.
Regardless of whether one is interested in becoming a hotel partner, youth leader, donor, or corporate sponsor, each person is a valuable part of our mission in creating a more compassionate and sustainable community.
How The Linens N Love Logo Came To Be
Linens N Love was founded in 2014 by Vivian Wang and May Wang with the mission of volunteerism and service-based leadership with a purpose.
This goal to educate volunteers about the community around them and its valuable support system is symbolized through the helping hands on the logo, both big and small. The hands represent the power of collaboration between our youth and their community. Our colors, red and blue, symbolize the driving forces of the nonprofit organization, whereby red is the color of passion and leadership and blue represents clarity and wisdom.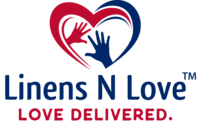 EIN: 81-3318254
On Publication 78 Data List: Yes
Form 990-N (e-Postcard): Yes