We're ready to make the world a
warmer
greener
sustainable
brighter
place.
Revolutionize hotel practices to create a culture of care for our community.
Every year, hotels around the world discard millions of high quality blankets, sheets, pillows, and towels with slight imperfections to maintain their franchise standards. Rather than let these linens go to landfills, Linens N Love collects linens from hotels and reuses them by donating them to homeless families, low income households, animal shelters, and more.
Upcycled and Donated Linens
We're certified by PayPal Giving Fund!
Support our mission, volunteers, and student leaders through PayPal or PayNow today.
All donations are tax deductable.
Follow the journey of our linens
On average, 8.4 million lbs of inorganic linen waste are discarded by top-tiered hotels every year. Oftentimes, these blankets, sheets, and towels have slight imperfections like coffee stains that prevent them from meeting franchise standards
Youth Leaders Coordinate Deliveries
Our student leaders are located in 15 countries, including the United States, Singapore, & Mexico. Chapter Presidents are responsible for leading their Linens N Love's branch activities, ranging from delivery drives to leadership workshops.
Linens are Donated to Shelters
Linens N Love is on a mission to donate 100,000 linens to shelters and charities in need. Recognizing the problem, our team leverages the power of community to unite youths under a common cause and donate the linens. During these deliveries, we emphasize service-based learning such that our student leaders learn and grow from their volunteer experiences.
Beyond our standard linen deliveries, our team also upcycles linens to give them a second life. For instance, Linens N Love leaders have transformed linens into tote bags, stuffed animals, and coasters.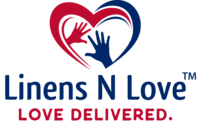 Thank you to our supporters and partners!